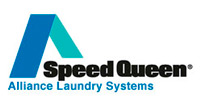 More About Speed Queen Washer Dryer Repair
Founded 1908 by Joe Barlow and John Seelig as Barlow & Seelig Manufacturing, this popular appliance brand got its start by taking existing machine designs and improving them. They were the first company to introduce washers with nickel-copper tubs in 1922, and the brand name "Speed Queen" was created in 1928. With over 100 years of commercial quality and expertise, Speed Queen offers a complete line of washers and dryers for the home. Paul's Washer and Dryer Repair are experts at repairing your Speed Queen laundry appliance.
With ease and convenience, Speed Queen Top Load Washers bring commercial quality into your home. Offering a superior product with loads of standard features like; a stainless steel tub, commercial grade cabinet and a heavy-duty motor, Speed Queen top load washers are a smart choice for home appliances. Speed Queen Rear Control Dryers boast an extra-large 7.0-cubic-foot cylinder, a large 2.06-square-foot door opening, as well as a fast drying process, helping you shorten the time you spend doing laundry.
Speed Queen washers and dryers have long been the one of favorites for commercial laundry facilities. Built for the wear-and-tear of the commercial industry, yet available for your home, Speed Queen offers a variety of washers and dryers to fit the needs of any household. Above and beyond, Speed Queen home products always come with utility-saving features and user-friendly controls.
At Paul's Washer and Dyer Repair, we use only authentic brand name Speed Queen replacement parts. Our experienced and skilled repair technicians are trained to know every inch of your Speed Queen appliance. We are confident that we can identify the problem and fix your broken washing machine quickly, efficiently and affordably.
Dependable Washer & Dryer Repair in Las Vegas
The highly qualified washer and dryer technicians at Paul's Washer and Dyer Repair have been servicing and repairing Speed Queen washing machines and clothes dryers for over 30 years.
Guaranteed and reliable, Paul's Washer and Dryer Repair will perform a Multi-Point Speed Queen Inspection to diagnose and fix your broken laundry appliance. Depending on the problem you are experiencing with your particular Speed Queen washing machine or dryer, we may even be able to provide you with a diagnosis and estimate right over the phone.
Schedule an Appointment Today!
Speed Queen Washer and Dryer Repair in Las Vegas and Clark County
When a washer or dryer doesn't work properly, it can feel like the end of the world with all of our dirty clothes piling up. Paul's Washer and Dryer Repair makes on-site repairs in the Las Vegas and Clark County area, so there is no need to move the appliance.
Simply schedule an appointment with Paul's Washer and Dryer Repair and one of our experienced and highly-qualified repair technicians will be at your door to fix your washing machine or dryer in the comfort and convenience of your own home or business.
Go to our Paul's Washer and Dryer Repair contact page – here.
Paul's Washer and Dryer Repair are experts at Speed Queen Appliance service.