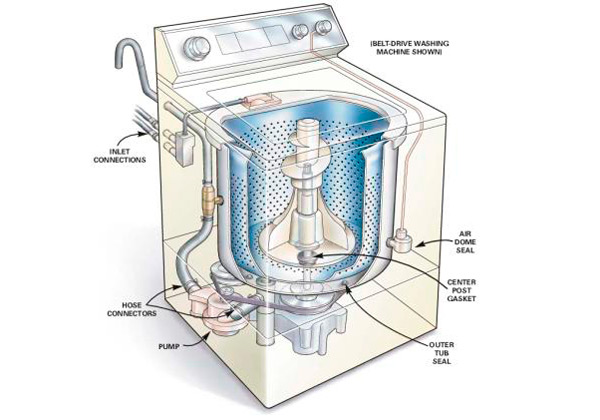 When a washing machine is noisy it is often very difficult to diagnosis, but with over 30 years of trusted experience, Paul's Washer and Dryer Repair always strive to give you an accurate diagnosis and honest estimate when you call for free. Here is a list of the more Common Problems When a Washing Machine is Noisy.
Common Problem #1 Washer is Noisy & Rumbling on the Spin
If a front load washing machine is noisy and rumbling on the spin cycle, the main suspect is the drum bearings. Drum bearing failure is common on many washing machines due to water getting into them if the drum bearing seal fails. (Whirlpool and Maytag in particular are more affected, in our experience.) To check for drum bearing failure, you can take the belt off and spin the drum by hand. If the drum rumbles when spun then the bearings may have gone. There should be a constant rumble all the time while the drum is revolving.
Common Problem #2 Washer has Drum Bearing Failure
Another drum bearing failure symptom is excessive up and down play in the drum which can be checked for by lifting the drum up and down from the drum lip behind the door seal. A further symptom of drum bearing failure can be a brown rust patch underneath the washing machine and down the back of the outer drum, underneath the drum pulley (where the belt goes) although this patch is not always present.
Common Problem #3 Sounds of Coins or Other Loud Objects
Coins or other obstructions trapped inside the tub under the drum can make horrendous noises as they get tossed about on spin. They often don't make the noise unless laundry is loaded in though. Look out for obvious dints and creases in the drum itself as evidence of a coin or similar stuck inside although be aware that it only shows there's been an obstruction in at some point and the coin could have fallen into the sump hose or filter and not actually be the cause of the noise at this time.
Common Problem #4 Gurgling Sound when Washer is Draining
Other causes of a noisy washing machine are coins and other obstructions inside the water pump. This will cause a strange noise when the washing machine is emptying the water. Coins or other obstructions can get trapped between the outer tub and the inner drum. This would produce a lot of noise on spin as the coins get tossed around inside. Often, spinning the drum by hand will not reproduce the noise in the case of coins because the coins drop to the bottom of the tub and lay flat when the washing machine isn't spinning.
Common Problem #5 A Light Scraping or Scratching Sound
A light scraping or scratchy noise when the drum is turned by hand is commonly found when a women's bra wire is trapped between the tub and drum. They can often be removed from underneath with the sump hose taken off. It's always worth checking that the wire isn't poking through one of the holes in the drum which can be pulled back out from inside the door.
Common Problem #6 Excessive Motor Bearing Wear
This issue causes a high pitched squealing or harsh noise that is very distinct to professional washing machine repair technicians. This can be checked for by taking the belt off and running the motor alone. Sometimes a badly worn drive belt can cause a surprising amount of noise. Generally it is caused by the rubber degrading and the individual tracks (only on some belts) getting covered in melted rubber, but it takes a trained technician to accurately make such a diagnosis.
Common Problem #7 Ignoring the Noisy Washing Machine Sounds
While it is very tempting to ignore noises while the washing machine is still otherwise working, it is almost always a warning of a bigger problem. Of course, some noises can be benigne and may not develop into serious faults. Most other noises, if left, will cause extensive damage and can end up costing considerably more than if tackled early and efficiently.
Don't be a fool and ignore the a noisy washing machine, instead let the professionals handle it and call Paul's Washer and Dryer Repair today!
Washer and Dryer Repair in Las Vegas and Clark County
When a washer or dryer doesn't work properly, it can feel like the end of the world with all of our dirty clothes piling up. Paul's Washer and Dryer Repair makes on-site repairs in the Las Vegas and Clark County area, so there is no need to move the appliance.
Simply schedule an appointment with Paul's Washer and Dryer Repair and one of our experienced and highly-qualified appliance repair technicians will be at your door to fix your washing machine or dryer in the comfort and convenience of your own home or business.
Go to our Paul's Washer and Dryer Repair contact page – here.
Washing Machine Brands We Repair & Maintain: